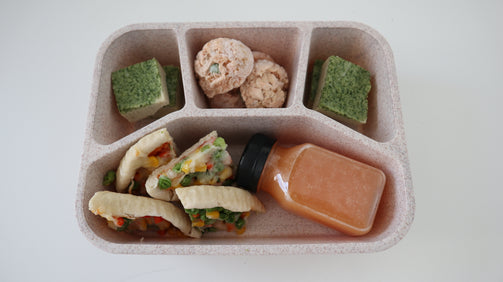 Salmon croquette / Spinach marble cake / Mini Pizza / Pear Plum Juice
Salmon croquette / Spinach marble cake / Mini Pizza / Pear Plum Juice
Regular price

Sale price

$12.99 USD
Age:11-12 months+

Our sophisticated salmon croquette and spinach marble cake combination is a
powerhouse of protein, vital for your growing toddler. Salmon is one of the top
sources of omega-3 fatty acids, including DHA, which is critical for visual and
cognitive development. This meal combination also provides peas, spinach and
yam, giving fiber, protein and vitamins, helping develop your toddlers gut biome
to fuel growth and development.
This product is NF
This item is made in a shared kitchen that processes coconut, eggs, fish and soy.
Salmon croquette
Spinach marble cake
Mini Pizza
Ingredients: bread flour, cake flour, active yeast, avocado oil, english peas, sweet corn, carrot, shrimp, mozzarella cheese, garlic, fresh tomato sauce 
Contains: shrimp, wheat
This item is nut free, diary free, egg free
Pear Plum Juice
300ml
ingredients: plum, pear
Couldn't load pickup availability