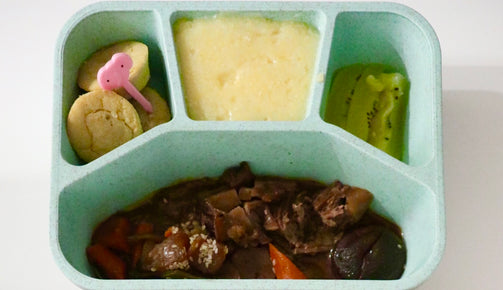 Korean Short Ribs (Kalbi Chim) / Polenta / Kiwi Fruit Cup / Mini Apple Chickpea Muffins
Korean Short Ribs (Kalbi Chim) / Polenta / Kiwi Fruit Cup / Mini Apple Chickpea Muffins
Regular price

Sale price

$12.99 USD
Age: 12 months +
Kalbi Chim is a traditional Korean dish, regarded as high-class due to the use of
short ribs. Short ribs are high in iron and iron is vital for growing children,helping carry oxygen throughout the body, helps a child's ability to learn. The addition of shiitake mushrooms, chestnuts, carrots and daikon give this dish a variety of vegetables as well as adding fiber and multi-vitamins to the dish. The delectable polenta are cleverly designed to literally melt in your mouth. Kiwi offers a remarkable number of nutrients that are important for early growth. Kiwi is rich in both soluble and insoluble fibers to support digestion and baby's developing gut microbiome. The fruit also offers a good amount of vitamins C and E, which support immunity, power organ functions and aid cell growth and repair.
This item is made in a shared kitchen that processes coconut, eggs, fish and soy.
Ingredients
*Korean Short Ribs (Kalbi Chim)
Beef short rib, shiitake, daikon, pear, garlic, chestnut, carrot, scallion, sesame oil, brown sugar, honey, soy sauce, black pepper, salt
This product is NF, GF, DF.
*Kiwi Fruit Cup
*Polenta
cornmeal, chicken stock
This product is NF, GF, DF.
*Mini Apple Chickpea Muffin
Chickpea flour, apple, egg, milk and avocado oil
This product is NF, GF.
Couldn't load pickup availability