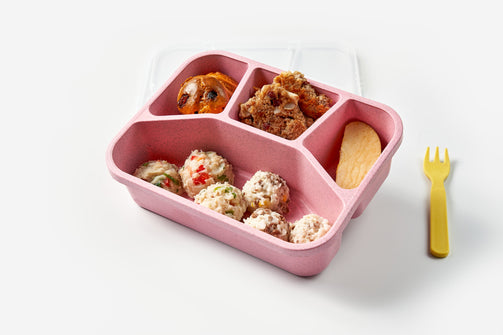 Baked cod fish cakes / Carrot muffin/ Apple Slice /Quinoa Bar or Quinoa Sweet Corn Rice ball
Baked cod fish cakes / Carrot muffin/ Apple Slice /Quinoa Bar or Quinoa Sweet Corn Rice ball
Regular price

Sale price

$12.99 USD
Age: 11-12 months +
*Baked Cod Fish Cakes

Our toddlers love cakes, so why not a fish cake filled with fish and vegetables.
Cod contains vitamin D a bone building nutrient that is often deficient in
children. The green beans and peppers in our cod cake as well as the carrot in
our muffin, contain vitamin C, a critical nutrient that helps our bodies absorb
iron, important for toddlers at this stage in their lives.
This product is nut free and dairy free
This product contains fish, egg
*Mini Carrot Muffins
carrot, eggs, raisin, flour, coconut flour, coconut milk, fresh orange juice
This product contains wheat, coconut and egg

This product is nut free, no added sugar
*Quinoa Bar
Ingredients: Walnut, Date, Banana, Almond Flour, Coconut flake, Hemp seed, Quinoa, Peanut Butter
This item contains: tree nuts(coconut, peanut, almond and walnut)
This item is gluten free, diary free, egg free and no added sugar
~Quinoa Sweet Corn Rice ball is the Nut free Option to replace Quinoa Bar
*Quinoa Sweet Corn Rice ball
Quinoa, Sweet Corn, white rice
This item is nut free, egg free, no added sugar and gluten free
This item is made in a shared kitchen that processes coconut, eggs, fish and soy.
Couldn't load pickup availability